ISY Elementary School Faculty Blog
The Tao of Pooh: Lessons from a simple bear in an uncertain time

Welcome to the end of another week full of twists and turns that you again navigated your students through. Winnie the Pooh would be proud (see below). 
There are few things to read this week around assessment and reporting, how we can support our Chinthe Learning Online students by jumping in on their meetings, and a heads up on what went out today to families in response to their feedback.  
Next week, we will be busy starting weekly planning for our Prosperity units. 
Our WASC online visit will be happening the week of October 5-9. We will be relying on our team leaders to represent teachers during this process. Below you can see the report that we have written to summarize what has happened since we went online last year.
Have a lovely weekend. We have had another great week.
Cheers,
Mike
ASSESSMENT & REPORTING
Reporting
We are at the end of Week 4 which is almost half way through the Quarter.
We will be providing a report card at the end of Quarter 1 which will be supported by a parent-teacher conference. This report card will be very light on text (probably just a common blurb about what has been covered in each subject) but we will need to indicate where students are on a 1-4 scale in English Language Arts, Math, Science and Social Studies.
Large specialist groups make this too difficult to use a 1-4 scale at this stage in specialist subjects.
The team leaders will meet soon to confirm our timeline and format but I just wanted to give a heads up to homeroom teachers that we will be reporting grades at the end of Quarter 1.
As we are halfway through the Quarter, this is the time that you will need to start thinking about which families you might need to check in with so there are no surprises when we report grades. The team leaders will meet with Patty and I to confirm the best way to do this. 
Assessment
Assessing what a student can do online is challenging. Just before school started, I sat in on some webinars that provided some really sound and practical advice on this. Here are some key ideas that I thought would be useful:
Use the data that you trust the most – it doesn't matter if it is summative (a test or final project) or formative (observations, discussion).

All assessment is formative and it all counts!

If you are unsure as to whether a student has mastered a skill or understands a concept, ask them to explain it to you. Generally, if a student can explain it, they know it.
That last point is I think important in any context, but especially online. It might mean that you do not have a lot of completed assessment tasks but you can take notes at any time with any discussion you have with a child and if you trust your assessment then those notes are valid evidence of learning – possibly even more so than a finished project or test. 
It is important to have a system to record your notes. Our Early Elementary teachers are masters of this if you need any ideas.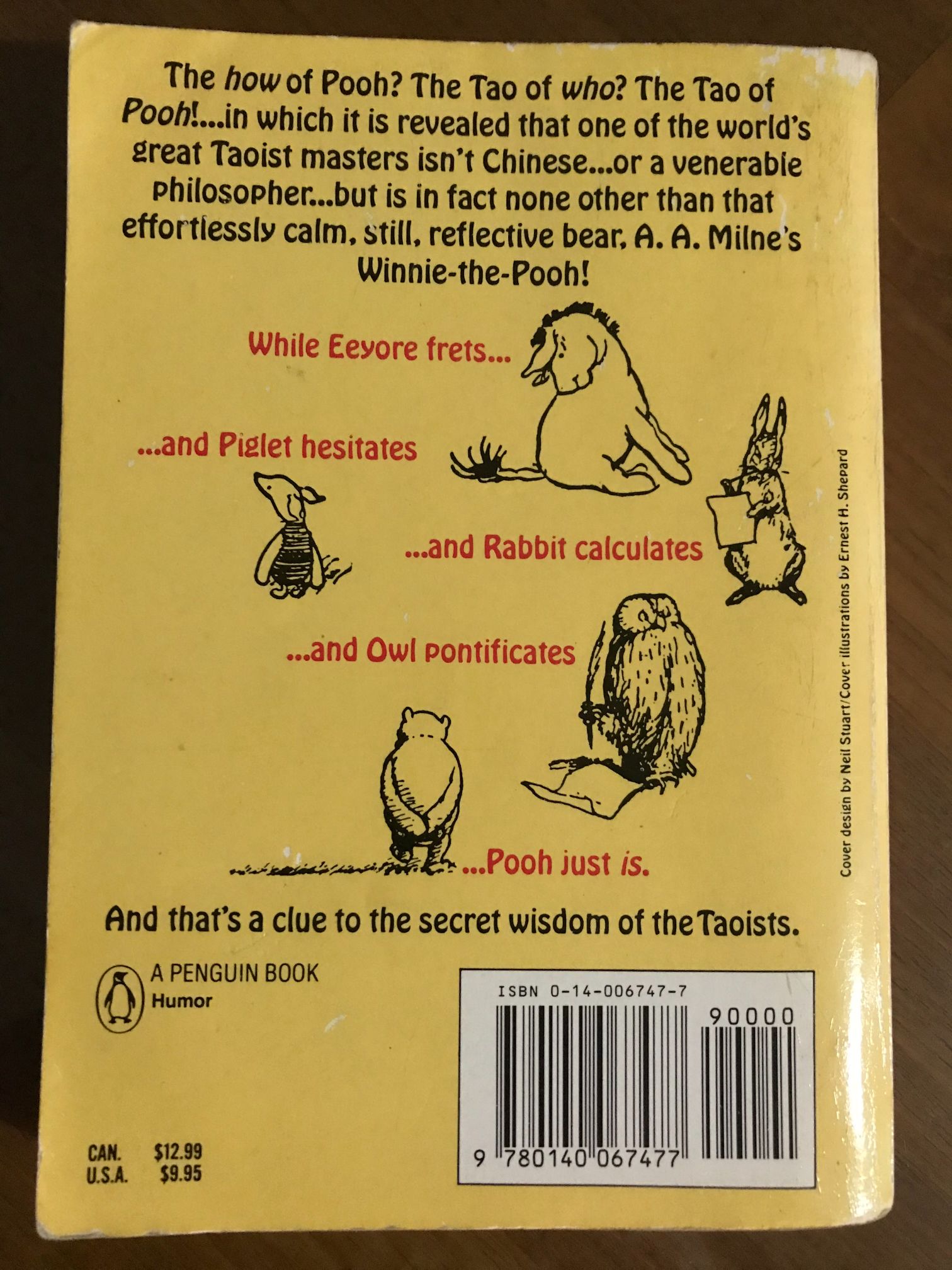 THE TAO OF POOH: LESSONS FROM A SIMPLE BEAR IN AN UNCERTAIN TIME
COMMUNICATION TO PARENTS AROUND FEEDBACK
Continuing with our focus on connection, it was lovely to see some of you in our first virtual parent social last night. This was an opportunity for parents to connect with each other and to hear how we are keeping your children safe and connected online. 
I can't speak highly enough of our counseling team of Mr. A-G, Mr. Fast, and Elementary School's very own Ms. Patty. They are working very hard as a team and with our teachers to think of creative ways to keep us all connected in a socially distanced world. 
Thank you again to those of you who have provided messages of support and feedback via our online learning surveys. Your feedback confirms to us that developing and maintaining connections between students, teachers, and families remains the main focus for us. 
Connections around learning through personalized feedback, children sharing their work, and purposeful group meetings is important to you as is creating space for social connection. 
In response to this feedback we have increased the number of meetings that we had originally planned for our self-paced Chinthe Learning Online program. Teachers that are based here in Yangon in our synchronous learning program will also be joining at least two meetings per week to say hi and help in any way they can. We are covering the same material in both programs so plenty of connections can be made.
In synchronous learning, we will continue to vary the types, lengths, and sizes of meetings we use for different purposes – academic and social. Now that our students have settled into their online learning routine and learning together, our focus sharpens on the individual needs of students. As noted in your feedback, this can be challenging in online classes. Teachers will continue to use smaller breakout groups to differentiate instruction for students during our regular schedule and will reach out to students and families as needed in the afternoons to provide additional support or extension.
Last night, Ms. Patty outlined the ways that we are developing and maintaining social connections between students and their teachers in the Elementary School:
Classroom Morning Meetings to connect with each other before we start our day.

Compassionate Class Agreements as to how we work together and keep connected.

Virtual Recess continues this week.

Mindfulness Lessons focus our minds and help develop a sense of community.

Counselor Check-Ins continue with Ms. Patty regularly joining classes and meeting with students.

Counselor Appointments are available for individual students and small groups as needed. You are free to contact Ms. Patty at any time. 

After School Activities start this week and provide an opportunity to connect and socialize around common interests.
Closely related to connection is the need for clear communication between school and home. We welcome families to contact our teachers in both programs at any time. Our Friday updates are proving popular with our synchronous learning families.
We continue to work on creative ways to ensure that feedback on learning is as accessible as possible within our learning platforms. We also appreciate the need for this feedback to be as specific as possible. Students sharing work and communicating directly with each other is something else that you would like us to create more opportunities for and we continue to think of creative ways to do this. 
We seem to have adapted well to the technology that we are using although there will always be a need to keep on top of this to maintain the flow of lessons and ensure that students have access to everything they need when they need it.
We will send another survey out at the end of next week to check in with you as to how we can keep improving.
PLANNING FOR QUARTER 2: PROSPERITY
I am genuinely excited and very grateful for the energy and enthusiasm that you are putting into these units. We will meet on Monday to confirm our Scope and Sequences and outline next steps:
Monday, 2:10-2:50pm: Grades 2 & 3

Monday, 2:55-3:45pm: Grades 4 & 5

Monday, 3:50-4:30pm: Grades PK, K, & 1
ES CLO SPECIAL GUESTS: Please sign up
Thank you for signing up to be a 'Special Guest' in our Chinthe Learning Online student meetings. You are providing a really important connection to the school for these students that they really need at the moment. You can sign up using this ES CLO Meeting 'Special Guests' Schedule.
The need for regular communication and connection between students, teachers and other students remains the biggest need expressed by families. This is more of an issue in our Chinthe Learning Online program. Our families realise that this is an issue with time zones as much as anything. 
We cannot include our CLO students into our synchronous classrooms but we do need to think of ways to meet the need for connection. Meeting this need will keep everyone positive which makes it easy for us to meet other needs and will also help our students transition into synchronous or, dare I say it, real classrooms when they get back into our time zone.
Our CLO students meet throughout the week and they would love it if teachers here in Yangon would drop in from time to time to say hi. This would not require any planning on your part and you can check in with Jordan (PK-1), Ian (2-3), or Kalu (4-5) to see if they would like you to read a book or play a game or even explain something that you had already taught in your synchronous class.
WASC ONLINE ACCREDITATION VISIT: OCTOBER 5-9
Our WASC online visit will be happening the week of October 5-9. We will be largely relying on our team leaders to represent teachers during this process after a whole faculty effort to complete the self-study last year. Here is a link to the report that we have written to summarize what has happened since we went online last year (which is quite a bit…):
Previous Elementary School Posts
ISY Elementary BlogInternational Day Is HereSandy Sheppard , Elementary School Principal25th November, 2022Dear all, Thank you for attending the session on Thursday on SDGs. It is always great to see our community of teachers collaborating together. Read more below...