ISY Elementary School Faculty Blog

It has been another unsettling week. Thank you for providing a sense of safety and stability for our children and their families. Keep checking in on yourselves and those around you.
We all know we are doing our best…. even when we are not at our best!
Check in. How am I? What do I need? How are they? What do they need from me?
Ask for help and be helpful.
Be present and patient. Take time to fully understand others and allow time for others to understand you. Pausing, Paraphrasing and Posing Questions promotes our common understanding.
Share your ideas and be open to the ideas of others. Once shared, they become our ideas and anything could happen!
Please add any questions, items that come to mind to this ES Collaborative Agenda. The idea is that once we have a few things to discuss that can't be addressed by email, we will meet.
Friday Emails + Offline Learning
We will send out our Grade Level Friday Emails next week.
You will find the email templates in the folders below. Please update these emails in blue by 12pm Thursday MMT.
In these folders you will also find the Offline Learning Activity templates that will be converted to a PDF to be emailed out every Friday. If you need to update these offline learningactivities, please do so by 12pm Thursday MMT.
ES Assemblies
There will be an assembly this Wednesday.
These assemblies will be an informal and fun way to keep everyone connected this quarter. 
Assemblies will follow a Story + Student Share + Game format every week. Thank you for signing you and your students up for these activities on this Assembly Sign Up Schedule. There are still a couple of game slots free if you have any ideas.
Quarter 1 Interdisciplinary Units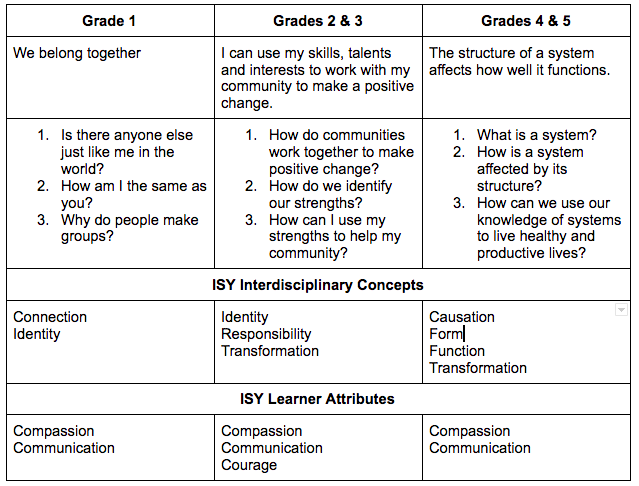 Previous Elementary School Posts
ISY Elementary BlogFAMILY FUN FAIR - SEE YOU THERESandy Sheppard , Elementary School Principal 17Th of February, 2023 Random acts of kindness this week was so amazing, it is great to feel the love in the school. Let's keep celebrating each other in the coming weeks....