ISY Elementary School Faculty Blog
THANKS for all you are GIVING to our families. They appreciate it. 


Special Schedule for this Wednesday, November 25
With Parent Teacher Conferences and the holiday next Thursday, specialist classes on Thursday will miss 2 weeks in a row. To the left is a schedule for Wednesday, November 25 that includes Thursday classes with regular Wednesday classes.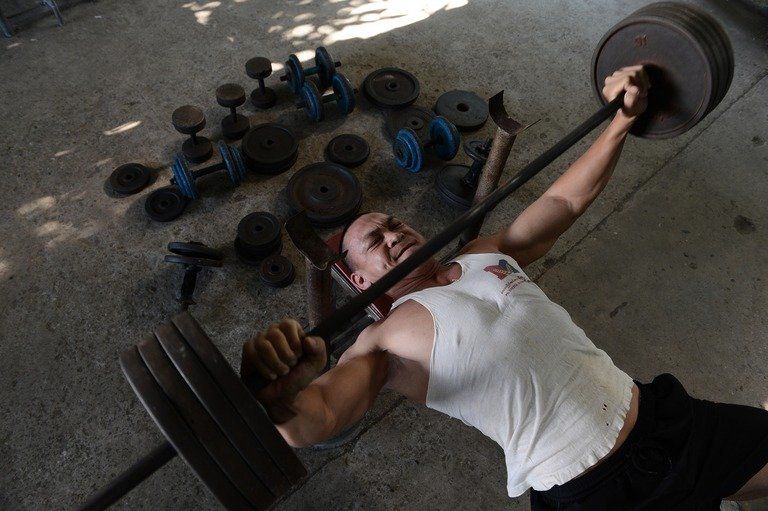 ES MORNING FITNESS WITH ISY's MR. MYANMAR!
Zar Li has kindly offered to run 15 minute work outs for our students that will start at 8:10am every Monday, Wednesday, and Friday. These work outs will start next Monday. The Zoom link for the workouts will be on the Friday Family Report each week.
Please encourage students to join and also post the Zoom link on your Google Classroom (if your class has one)
The workouts will finish at 8:25am to give students time to get a drink and get organized before joining their classes at 8:30am.
QUARTER 2 SCHEDULE
Music & Art
To make Music and Art classes more manageable and to ensure that every homeroom class gets one special per day, we have a new Quarter Schedule. The main change is that each Grade 1-5 homeroom class will get separate Art and Music classes plus one whole grade level class. To make this work, we have split the Quarter into 2 halves. In one half, students will have only Art (no Music) and in the other half, students will have only Music (no Art). Other specialist classes are not affected. Your team leaders know about this and will be able to help you understand these schedules:
PRIDE OF THE PRINCIPAL
We will get this started again so if you have any student (or students) that you would like me to recognise for living the ISY Attributes send me an email with a sentence about why they are to be recognised and a time that I could come on Zoom and say hi. Any time or day is OK – If I have a meeting I'll suggest another time until we get one that works. I will jump on your Zoom and then I'll get you to put the student or student(s) into a break out room with me. I'll have a chat with them and take a screenshot that I will send to their parents.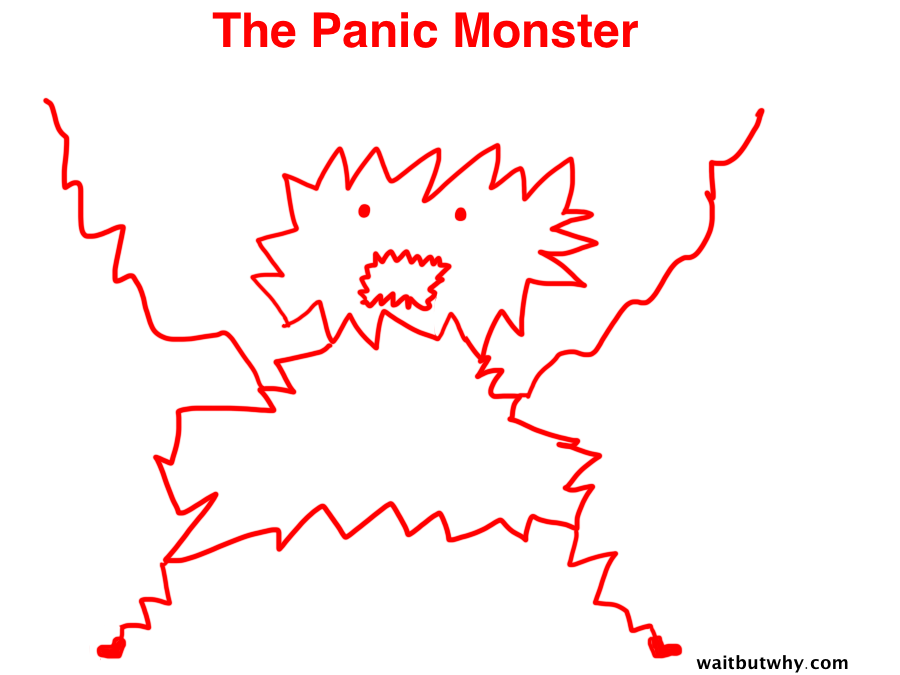 The Importance of a Sense of Urgency
A couple of weeks ago, I was trying to psych myself up to start writing a report that was due today. I ended up scrolling through cricket videos on Youtube which led me to a TED Talk on cricket which led me to the most popular TED Talks of all time which led me to Tim Urban's perfectly named TED Talk, 'Inside the Mind of a Master Procrastinator.'
I submitted my report today before the deadline but I could have finished it a couple of weeks ago if I had not procrastinated. It was a bit touch and go as to whether I would have my report in on time and I put myself under pressure by not starting earlier. 
Before I watched Urban's TED Talk I would have said that pressure was unnecessary. But now I wonder if that pressure was necessary for me to motivate and focus myself to do my best work. I also wonder if pressure is necessary for people to do their best work when I think of how our teachers crammed 2-3 years of work into 2-3 months to be ready for students on August 19. 
I created my own pressure by procrastinating in the face of a deadline. Our teachers were given an almost impossible deadline that made procrastination impossible. But we both had a deadline that created pressure. 
A deadline is described in terms of time. It could be to the minute, the hour, or year. It could be very specific like 1pm Friday afternoon or could be more vague like before someone might make a decision or the markets collapse. The COVID crisis has created time pressure to act immediately. The longer we take to get it under control the more suffering it will cause. The world has (kind of) dropped everything to fight it and we will beat it soon(ish).
Urban says there are two kinds of procrastination. The first kind happens when there is a deadline. In these situations, a sense of urgency that Urban might refer to as the 'Panic Monster' will eventually kick in and we will start doing what we need to do to meet the deadline. 
The second kind of procrastination happens in situations where there is no deadline, or at least no deadline that creates enough of a sense of urgency for the Panic Monster to wake up. An example of this type of procrastination is happening in relation to crises such as climate change. We are feeling the full effect of COVID now and the Panic Monster is wide awake as we respond to it. But it is dozing as we respond to non-deadline crises that we know have the potential to destroy us but are not feeling the full effect of yet. 
So the question must be, 'How do we create a sense of urgency to effectively start to deal with climate change and other non-deadline crises right now?' I'm not sure and I know that there are a lot of people in our community who are certainly not procrastinating as they try to create this sense of urgency. 
As a school, we have integrated the United Nations Sustainable Development Goals (SDGs) into the heart of our curriculum to, among other things, create an awareness of and sense of urgency in relation to the crises that the SDGs were set to address. We do not want our students to panic but they might be the ones that need to wake the Panic Monster in all of us before it is too late.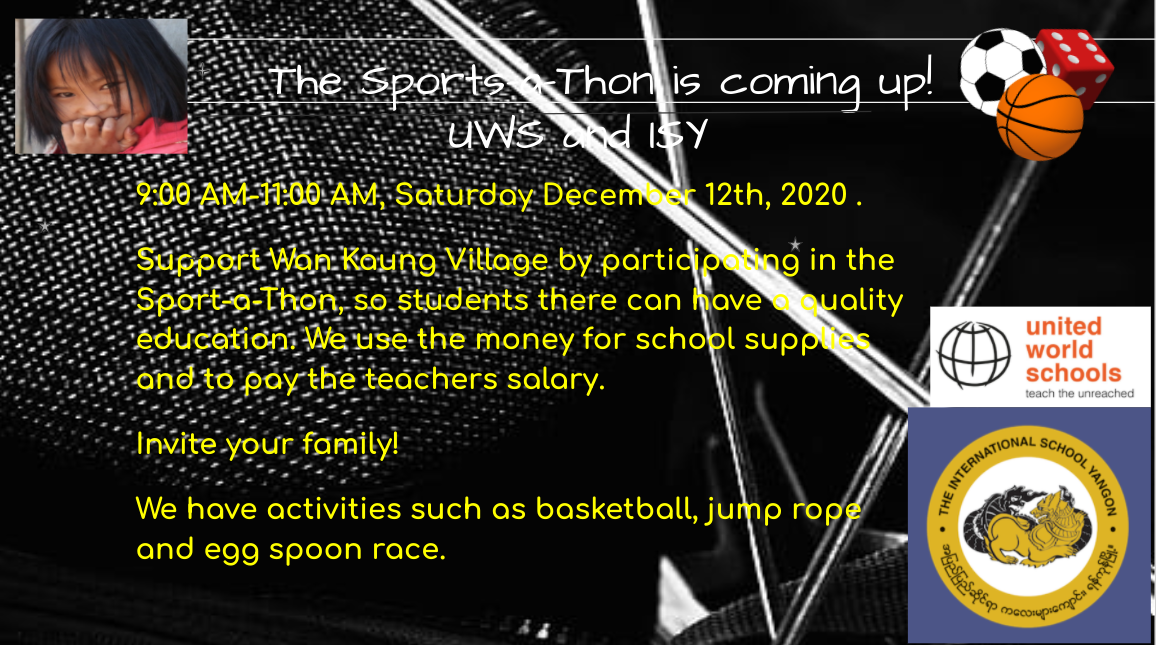 Join us on Saturday, December 12th for the 3rd annual UWS-ISY Sports-A-Thon! 
This fun active event raises funds for the UWS-ISY Wan Kaung School partnership, allows children in Northern Myanmar to attend school with appropriate supplies and resources.  If you are interested in learning more about this amazing program, check out the ISY website.
This year's event will be held virtually on Saturday, December 12 from 9:00-11:00 AM.
How can you participate?
Set a personal challenge or two.  Gather sponsors that will donate when you complete your challenge.  Join a zoom meeting on December 12th to complete your challenge. Finally, donate for completing your challenge

Video your family member(s) completing their physical challenge prior to December 12th, submit the video to be included in the day's celebration and make a donation!
All donations will be collected through the ISY School Spirit Store.  Simply login to your Powerschool account, click on School Spirit Store and make your contribution.
We look forward to your participation!
Previous Elementary School Posts
ISY Elementary BlogInternational Day Is HereSandy Sheppard , Elementary School Principal25th November, 2022Dear all, Thank you for attending the session on Thursday on SDGs. It is always great to see our community of teachers collaborating together. Read more below...