ISY Elementary School Faculty Blog

Anyone else feel like a duck? I know you are all putting in a lot of work to make this transition into Semester 2 a smooth one for our students and their families. Thank you!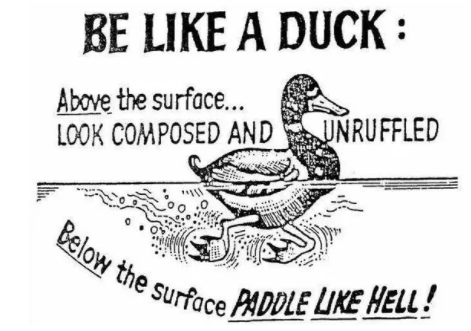 We all know we are doing our best…. even when we are not at our best!
Check in. How am I? What do I need? How are they? What do they need from me?
Ask for help and be helpful.
Be present and patient. Take time to fully understand others and allow time for others to understand you. Pausing, Paraphrasing and Posing Questions promotes our common understanding.
Share your ideas and be open to the ideas of others. Once shared, they become our ideas and anything could happen!
KEY COVID CONSIDERATIONS
Everyone on campus (all students and teachers) must wear a mask at all times
Students are to wipe their desks with a disinfectant wipe when they leave the room (e.g. leaving a specialist class, on the way to lunch, end of the day)
Class doors and windows to be open while teaching with air conditioners turned on (unless air quality is an issue – you will be notified by email).
Everyone encouraged to wash hands at every opportunity.
2 Week Transition Schedule
We will start Semester 2 with the below transition schedule. The grades in the boxes will attend school in-person on campus. Online learning will continue for other grades.
These days will follow the Semester 2 (Q3 & 4) Schedule below.
Note: During this 2 Week Transition Period, EAL classes will run as per the schedule. However, learning support services will be on hold until we all get used to the new schedule.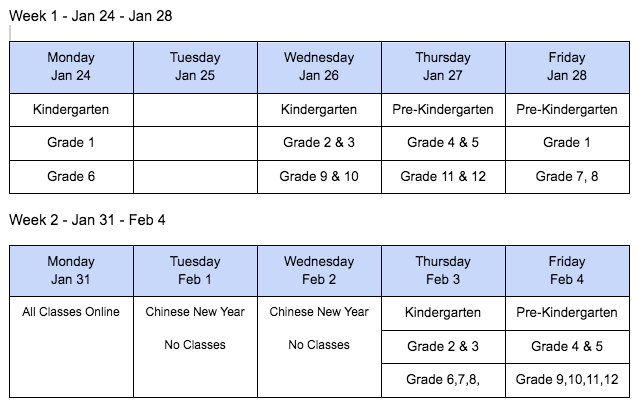 ZOOM LINKS (Semester 2)
Here is a link to the Zoom Links that we will use for Semester 2.
2 Week Transition DUTY (FRONT STEPS / RECESS / LUNCH) SCHEDULE
Here is the Duty Schedule that we will use to supervise students during the 2 Week Transition Period:
Notes on Lunch and Recess:
Grades 1, 2/3, and 4/5 will eat lunch on the Front Steps. Students are to sit at least 3ft apart but as far apart as possible.
PK and KG will eat on table in front of the A Building.
Students will always eat outside unless air quality requires them to eat at their desks inside – you be notified by email if this is the case.
Students are to wear masks at all times during recess.
Students are allowed on campus from 7:45am. At 8:00am they will be asked to go to their classrooms. Therefore, teachers must be in their classrooms at 8:00am.
Dismissal: Students will be walked to the Front Steps for 2:20pm (1:30pm for PK) by their homeroom teachers and assistants. Students are to sit on the steps 3ft apart or as far apart as possible.
Semester 2 (Q3 & 4) Teaching Teams & Spaces
Here is the link to the ES Semester 2 Teaching Teams document which is also soon available on the Elementary School Faculty Pages.
On this document (at the top) you will see links to Grade Level (PK-KG, G1, G2/3, and G4/5) Organization Summaries – as things pop up, please add them to the bottom of the document so we can address them.
ISY Annual Compassion Conference
Friday, March 4
This will be organized under the umbrella of ISY Definition of Compassion: The will and understanding to respect and value the identity, culture, perspective, and experience of others in acting to make a positive difference to their lives.
In addition to a key-note speaker addressing resilience in young people and an ISY student panel presenting on LGBTQ+ issues, teacher workshops will be an important part of this conference. 
Teacher workshops might relate to any of our ISY Inclusive Practices and will be organized under the following strands:
Inclusion

Service

Diversity
Workshops can focus on anything under these strands and we are particularly interested in workshops on the following:
Responsive Classroom Strategies

Science of Learning – memory, etc.

Teaching Creativity

Integrating Technology
Our TIF team of Ian and Lindsey will be helping us put this day together and will be popping into classes from time to time to get ideas and encourage teachers. Please reach out to them if you have an idea you would like some support with – whether you intend to present it or not on March 4.
Patty's Presentation on Supporting Students
I'm sure what we covered this morning was a review of your daily practices already, but if you wish to check out the information again or look at the links,
here is the presentation
.
Also, attached this the
 

list of new students

 
to ISY for this and last year.  Please connect the new students with buddies to help with their transition.  
Good luck as we manage this new challenge!
Warmly, Patty
Semester 1 (Q1 + Q2) Reports
Here are the overviews for Semester 1 Report Writing:
TIMELINE:
By 12pm on Wednesday, January 12: Subject Comments to be completed. 
By 12pm on Friday, January 21: Individual Student Comments to be completed. Please share your Google Document directly with Mike as soon as you have completed your comments.
By 12pm on Tuesday, January 25: Individual Student Comments and Grades to be entered into Powerschool.
Reports go out on Friday, January 28
 Reading Levels – January 2022
It is time to reassess our students' reading levels. This is important data to be recorded on this Elementary Reading Levels (2021-2022) Spreadsheet. There are obvious challenges to doing this quickly online so please focus first on those students who you might require additional support in the second half of the year.
Interdisciplinary Units
Curriculum Maps and Scope and Sequences
Here is where you can find our Curriculum Maps These will be updated up to Quarter 2 using our Subject Blurbs from Semester 1 reports.
Here is where you can find our Q3 Scope and Sequence. 
To fill out this year's Q3 Scope and Sequence, you might want to refer to the skills you focused on this time last year in this Q3 Scope and Sequence 2020-2021.
Please link your planning to the Scope and Sequence as you did for our Q2 Scope and Sequence. We want to give you some autonomy as to how you organize your planning and resources but your planning needs to be in an ISY Shared Drive. 
Please also check off the standards that you intend to cover in your subject in Quarter 3. Please make sure there is an 'x' in the second column of any standard you will cover in these Grade Level Standards Checklists.
From our TIFs
Both Ian and Lindsey have new teaching responsibilities for Semester 2. This might mean one of the another are unavailable to immediately help with an issue. 
If you have a technology issue that is not urgent, email tifs@isyedu.org. 
If you have an urgent technology issue, the best thing to do is send a Google Hangout message to Lindsey, Ian, and Anshu. That way you have 3 chances that someone is available when you need them. 
– – – –
Here are a curated list of helpful links for students and families as we begin the year. These videos can be helpful as you share information with them. 
From the Library
Lindsey and Christian in the library would be very happy to help get books to you that you might want to read to your class or have your students read. These books can be scanned so they can be used online so let them know if you are looking for something.
Previous Elementary School Posts
ISY Elementary BlogREPORTS ARE OVERSandy Sheppard , Elementary School Principal27th January to the 14th of February, 2023 Thank you for completing your report cards and getting the international orders in, it was a busy week. This blog will be your reference...