Sandy Sheppard , Elementary School Principal
Dear all,
The flash mobs were so much fun this week; thanks, Bekka, for working with our students to get these done. 
Don't forget to sign up to be a reader at the Halloween Night. Please let Lindsey or me know if you would like to participate and support our Parent Association. Lindsey can help with book selection.
Also, we need presentations for our upcoming assembly; this could be a class or individual, or group of students. 
It is Christina Powers last day on Tuesday, feel free to call by and say goodbye to her. 
Have a fabulous weekend.
Sandy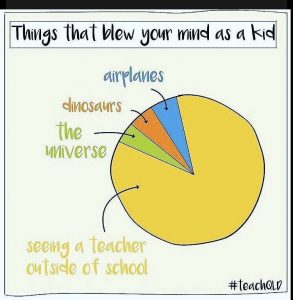 GUIDED READING
Guided reading is when students are grouped by similar instructional reading levels so that the same text can be read appropriately by all students in the group. Guided reading relies on the support of the instructor for students to gain the reading skills they need. Children should be grouped and regrouped in a dynamic process that involves ongoing observation and assessment.
REMINDER
Can you please make sure that at the 2nd break, you do your duty at the A Block playground. Albert will take care of the field and covered court area. Thank you
DATES TO REMEMBER
3rd – 7th October – work on subject blurbs for Progress Reports
10th – 14th October – Thidingyut Holiday
24th October – Use of turnstiles will begin
28th October – Quarter one ends
30th October – Halloween Parde at the end of the school day (more information to come)
4th November – Halloween Evening Event
26th November – International Day
END SEPTEMBER – reading assessments completed
END QUARTER – student survey completed and reflection, one peer walk thro and reflection meeting, meeting completed with the Principal to discuss goal setting.
PROGRESS REPORTING DATES
3rd October – Work on subject blurbs
31st October – Buddy reading of progress reports
2nd November – Progress Reports in PowerSchool
4th November – Progress Reports go home
16th November – Parent Conferences
Health Update
– Covid-19
Although we are still seeing some suspected cases of Covid, the numbers are quite small.  Therefore, from next week we will be lifting the requirement to wear masks indoors.  Mask wearing on campus will be completely optional from next week in all areas
Professional Growth Plans
Everything can be found on our ISY Faculty Pages.
As a reminder, the following is what you need to do this Quarter. They can be done in any order:
Reflect on a Colleague Walkthrough
Reflect on a Student Survey
Sandy will do a walk-through at some point this Quarter and will discuss at your professional goals planning meeting.
Once these 3 things have happened, make time to meet with your Principal. You can see from Faculty Pages whether Sandy or Christina, and Mike will be working with you on this.
If you have any questions at all or feel that you need more time to do these things by the end of the Quarter, please let Sandy, Christina, or Mike know, and we will be happy to help.
Quarter 1 Report Cards and 'Subject Blurbs'
Report cards will be posted for parents on Powerschool on Friday, November 4.
Here is the organization and timeline for report writing:
3rd – 7th October – work on subject blogs
31st October – Buddy Reading
2nd November – Reports in PowerSchool
4th November – Reports go out
6th November – Parent Conferences
As we did last year, we will also use progress report card comments as unit summaries for our Quarter 1 curriculum maps. You will write one or two sentences as a 'subject blurb' to describe what was covered in your class. Every student's progress report card comment will have this blurb in it, along with a general student comment at the end. It is okay to cut and paste from last year's comment if it is still appropriate. 
Please write your subject blurbs on these grade-level documents – you should find your courses on these documents, but if you don't, please let Mike know. We are using these documents so Mike can copy and paste the blurbs into your Quarter 1 Curriculum Maps. 
Subject Blurbs: PK
Subject Blurbs: KG
Subject Blurbs: Grade 1
Subject Blurbs: Grade 2
Subject Blurbs: Grade 3
Subject Blurbs: Grade 4
Subject Blurbs: Grade 5
Quarter 1 Curriculum Planning
Please use this Connected Curriculum: Getting Started to guide you in completing your Quarter 1 Curriculum Maps and related tasks.
EARCOS NEWS
Teachers are encouraged to present on items related to our strategic themes.
Greetings from EARCOS!
I hope you are all doing well. I am sharing with you the Teacher Workshop Proposals Online Submission link.
This link shall only be used to submit the field-tested workshop proposals, reviewed and ranked.
Online proposal submission link:
SUBMISSION LINK
Please note that you don't have to re-submit the accepted workshops from last year, as we already have them (unless the presenters need to make some changes).
If you have further questions, please do not hesitate to reach out.
TEACHER NEWS
The next assembly will be on the 7th of October at the same time. If you have something you would like your class to share, please let me or Patty know. These do not have to be polished performances.
The turnstiles will be activated again on the 24th of October. They will be distributed before this date. For students in Grades 2-5, they can also be used for cashless payments at the food providers. Training will be scheduled. 
We will be starting Pride of the Principal (POP) after the October break. Look out for more information.
FYI – sign-up for parent conferences will be 15-minute slots with 5 minutes in between. When the sign-up is ready, you will be able to go in and block out a lunch break along with two other shorter breaks. Specialist teachers will not have a sign-up. Specialist teachers will be in the Gym with the Senior School teachers (especially since a lot of you are cross-over teachers), and parents will be able to visit you there if required. 
STUDENT ANNOUNCEMENTS
Please sit when eating at both breaks.

Please do not purchase food or eat your lunch prior to your scheduled eating time.

Don't forget Math Monday.
If students wish to advertise events etc. They should seek permission from me. There will be a noticeboard area where these posters/notices can go.
MONDAY MATH ANSWERS
Grade 2 – If Ms. Sheppard reads 2 books a day, how many books will she read in one week? = 14
Grade 3 – Ms. Sheppard has 9 apples. She has twice as many bananas. How many bananas does she have? = 18
Grade 4 – Ms. Sheppard has 6 boxes of markers. Each box has 19 markers in it. How many markers does Ms. Sheppard have in all? = 114
Grade 5 – Ms. Sheppard saw some dogs. She counted 252 paws. How many dogs did she see? = 63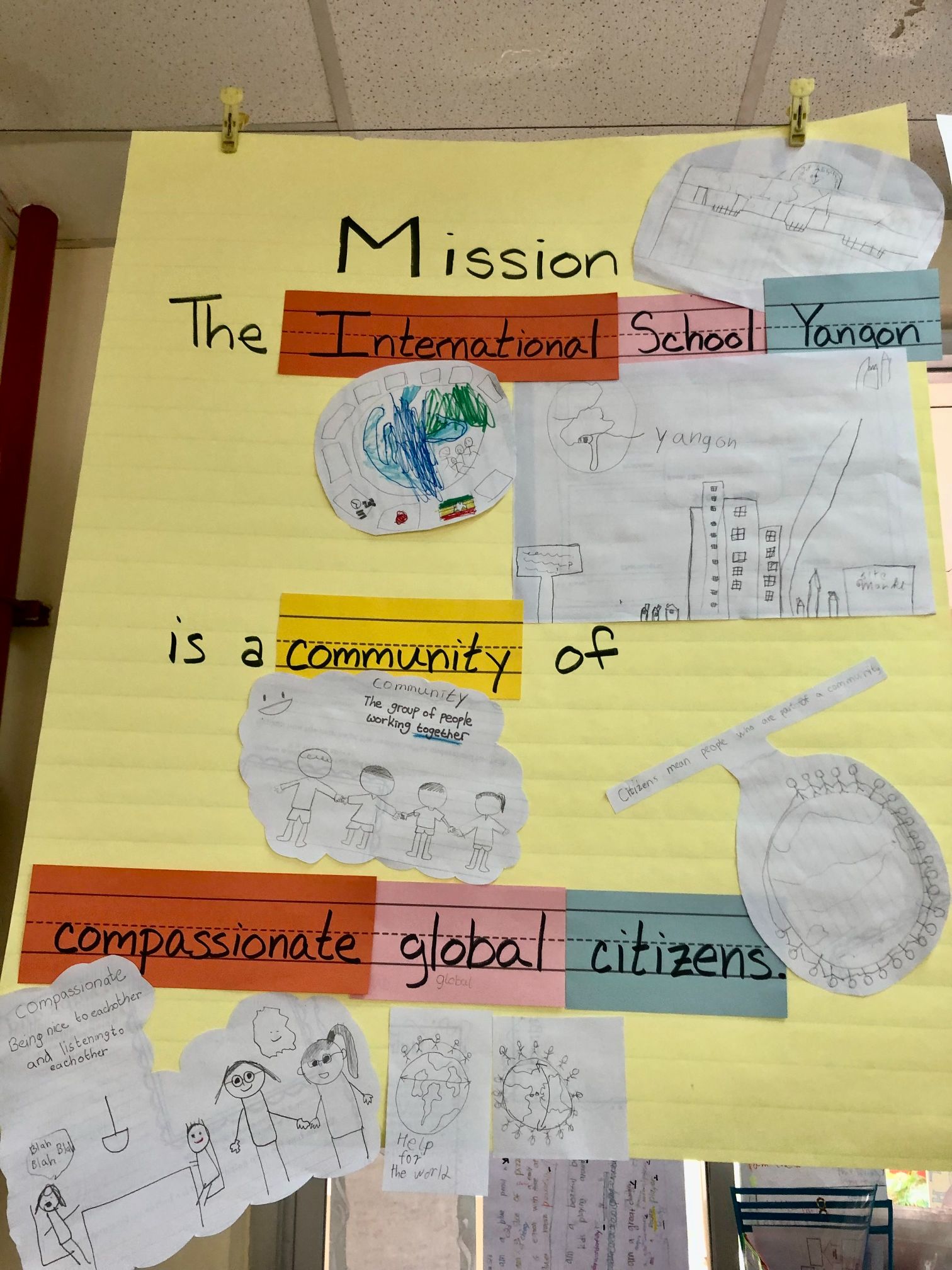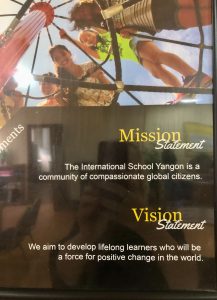 Celebration
Celebrating and creating an understanding of our Mission and Vision in Grade 3
DUTIES BEFORE AND AFTER SCHOOL THIS WEEK
Monday – Sabine/Saw John, Tuesday – Dan, Mabel, Wednesday – Laura, Me Me,  Thursday – Beth, Sandy, Friday – LuAnn, Htut Htut
FREE OPPORTUNITY
I am emailing to let you know of this FREE opportunity
Join us on an amazing scientific storytelling adventure to the Moon and back!
It is FREE – for all EY settings, schools and families at home and for children with Additional Needs of any age.
Fly Me to the Moon is:
A sensory science storytelling performance made especially for Early Years children ( 3 – 6 years)
And for children with Additional Needs of any age
Told in song, sign and story – with an amazing array of textile props 
Created by Cassandra Wye, Scientist-Storyteller, 
www.wesharethesamemoon.org
 , who has travelled the world teaching and telling science as story since 1991.
The performance is available live or recorded anytime after the performance.
I have attached a PDF with more information
"Fly me to the Moon – such a wonderful mix of story, learning and amazing props! The children absolutely loved it and were engaged with this imaginative storytelling adventure throughout!" Claire Harris, Bristol Libraries 
Please book in advance as places are limited
Fly Me to the Moon – is funded by Royal Astronomical Society to celebrate World Space Week
Please do get back to me if you would like to know more about  online Science Storytelling for your school
Best Wishes
Cassandra Wye
Scientist-Storyteller
Sustainable Goals Book Club
On Thursday, we read the book 'Luna and Me by Jenny Sue Kostecki-Shaw
This is a true story of a girl who lived in a tree to save a forest. We loved the book; the words were pretty, and the pictures were great. The book was very calming, and it sent a very good message that we can make a difference. We think the book would be great for students at ISY, especially those who love nature and stories with strong girl characters. We loved Butterfly, the girl in the story, and how she felt about Luna, the tree in the story. We were amazed that she actually lived in the tree. The story has a very important message.
Midori and Fadou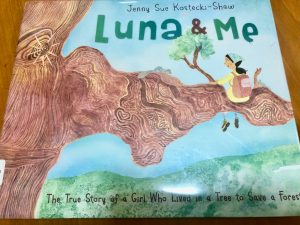 Previous Elementary School Posts
ISY Elementary BlogInternational Day Is HereSandy Sheppard , Elementary School Principal25th November, 2022Dear all, Thank you for attending the session on Thursday on SDGs. It is always great to see our community of teachers collaborating together. Read more below...
The International School Yangon
20 Shwe Taungyar Street
Bahan Township
Yangon, Myanmar
+95 1 512 793 /94 /95